Quality Heating & Air Conditioning Services
Available 24 Hours A Day, 7 Days A Week
THERMOSTAT - ComfortLink™ II Smart Control
This is not just a thermostat. It's an energy command center. Trane ComfortLink™ II is an easy-to-use, programmable control that gives you remote access, live weather and more, all on a beautiful color touch-screen display.
7" color display interactive touch-screen
Live weather forecasts and alerts
Internet-enabled access, room-by-room control
COMPLETE CONTROL OF YOUR COMFORT
Technological Innovation
The Trane ComfortLink™ II control is an advanced command center that puts your comfort literally at your fingertips. It's the product that Popular Mechanics dubbed one of "The Year's Most Transformative Products," awarding it their 2010 Breakthrough Award.
Perfect Air In Perfect Harmony
Connect your ComfortLink™ II control to a matched Trane system for complete, seamless comfort. Every component is designed to work in harmony with the others, optimizing your energy use over time.
Contact And Control
Not only does the ComfortLink™ II monitor indoor and outdoor temperatures, so you can adjust your system to be energy-efficient, but it also tells you when it's time to change a filter or schedule routine maintenance.
Key Features
7" color interactive touch screen that turns into a digital picture frame
Intuitive user interface with communicating capability
Room-by-room control
5-day weather forecasts and live weather reports
Remote access via internet-enabled computer, smartphone or tablet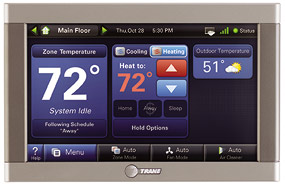 THERMOSTAT - XL802 Digital
Trane deluxe programmable thermostats put comfort in your control. Full of features so you can set it and forget it, or manage your home environment manually.
7-day digital programmable thermostat
Outdoor temperature display
Interactive touch screen
OPTIMIZED COMFORT CONTROL
Flexible Comfort Control
Set your thermostat for seven-day programming you can copy, 24-hour programming or manual operation.
Reliable Operation
Will retain memory, has a real-time clock and changes for Daylight Savings Time.
Memory Capabilities
Your programming function can be stored in permanent memory.
Trane XL600 Series 5/2 programmable thermostats allow you to manage your home's comfort for the week and the weekend, and you can change your system settings quickly and easily.
Set schedules for weekdays and weekends
Simple, easy-to-use programming
Soft key controls
COMFORT WITH MORE CONTROL
Reliable Operation
Maintains program temporarily when power is interrupted.
Memory Capabilities
Thermostat will permanently retain your temperature settings.